Registration
What's Included?
Registration includes initial Registration, Tent Camping, and Donation. Does not include Late Waivers, Transfers/Modifications, RV Camping, or Taxes.
Category
Early Birds
Nov. 1
Right on Time
Nov. 2
Corporate
6-10 Person Team
$225.00
per person
$250.00
per person
5 Person Co-Ed
$1,125.00
$1,250.00
4 Person
Male/Female/Co-Ed Singlespeed
$900.00
$1,000.00
Duo
Male/Female/Co-Ed
$450.00
$500.00
Junior In Team
18 yrs & younger
$170.00
$195.00
Solo
$275.00
$300.00
Junior Solo
18 yrs & younger
$190.00
$215.00
Complete waiver by January 15th and receive a complimentary insanely soft official event T-shirt in addition to an official event poster and goodie bag.
Click here to view all categories
For step by step registration instructions, visit Build a Team
Ride Tip: Epic Rides highly encourages participants to solidify their team prior to registering in order to avoid reprocessing fees.
Waivers (required from every rider)
Once a team registers, the registration is incomplete until all team members' waivers have been submitted. Riders have until November 30th to submit a signed waiver without a waiver processing fee.
Waiver Fee Schedule:
| | |
| --- | --- |
| $20 Per Rider | Dec. 1 – Dec. 31 |
| $45 Per Rider | Jan. 1  – Feb. 13 |
Any outstanding waivers after January 31st must be done in person at packet pickup.
Team Modifications / Rider Swaps
Modifications: Team captains can login to edit their team name, plus rider email addresses, dates of birth, and gender for no charge.
Rider Swaps require the entry to be re-processed and are subject to a processing fee.  Any change to the name fields will trigger the rider swap protocol.
Rider Swap Fee Schedule:
| | |
| --- | --- |
| $10 Per Rider | Nov. 1 – Nov. 30 |
| $20 Per Rider | Dec. 1  – Jan. 31 |
Any outstanding modification requests after January 31st must be done in person at packet pickup.
Team expansions (adding one or more riders to an existing team) are not permitted once registration has closed.
Scalping / Transfers / Refunds
Scalping Fee
If none of the original riders remain on a team roster, it is considered scalped and will be subject to the Scalping Fee of $50 flat fee + $20 per rider (all categories).
Solo scalps will be accepted through January 15th / Team scalps will be accepted through February 5th
Refunds
Team registrations are NON-refundable; however, if an individual was unable to attend due to COVID-19, then they will be able to do one of the following a) transfer their entry to a new teammate, b) receive a 75% refund, or c) defer 75% of their entry fee to the 2022 #24HOP. 
As acknowledged by each captain during the registration process, Epic Rides follows a strict non-transferable, non-refundable registration policy.  We do, however, understand "life" happens… The following exceptions will be considered:
Debilitating injury or illness (please provide a doctor's note)
Unscheduled military service (please provide a copy of your orders)
Death of immediate family member (understanding this is a sensitive situation, Epic Rides will work with you; some sort of verification may be requested)
Event Cancellation Policy
Much like dropping in on a steep rocky descent or committing to ride a distance outside of your comfort zone, risk is inherent in our sport.
The act of registering for an Epic Rides event, although not quite as dangerous as riding your bike, presents risks too.
Epic Rides takes great pride in the high level of organization and scenic venues our events utilize. In order to assure each event is up to par with Epic Rides' expectations, it's critical we make sure nature is cooperating in the effort to avoid unnecessary impacts on both the rider and the trails.
If an act of God or another event beyond our control occurs, what can event participants expect?
1. Decisions made by Epic Rides will be based on participant safety & environmental impact. Often times these decisions are in the hands of the landowners or agencies through which our events are permitted.
2. If the event were canceled due to COVID-19 then riders will be able to choose between receiving a 75% refund or deferring 75% of their entry fee to the 2022 #24HOP.
The skinny: Epic Rides does not save any money if you do not participate. Epic Rides needs to pay for all supplies and services associated with the event, regardless of the outcome. These include (but are not limited to) permits, third-party vendors, transport, administrative expenses, and awards.
If you feel further conversation is necessary, we welcome your phone call at 520-623-1584.
Fundraising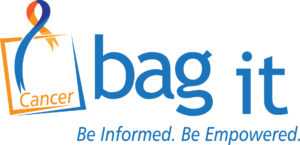 A portion of funds raised through the 24 Hours in the Old Pueblo benefits Bag It!
Bag It! is a widely successful grassroots project founded in Tucson and established to provide information and education to newly diagnosed individuals with cancer and their families.
Learn more and support Bag It!