Why should adults get to have all the pedal-powered fun at the Whiskey Off-Road? The Shimano Kids' Fun Ride features two different courses on Sunday morning, perfect for kids of all ages and skill levels. For many kids, this will be their first shot at the Whiskey, and most definitely not their last.
Registration Details
Registration Fee: $20 + tax
Includes Number Plate to customize, goodie bag, Finisher Award and $10 donation to Prevent Child Abuse Arizona
How to Register:
There are two ways to register for the Shimano Kids' Fun Ride:
Online – Coming soon
Bike & Gear Expo – Register Saturday, from 8a – 5p or Sunday from 7a – 8:30a at the blue and orange Epic Rides tents.
Scholarships available: Email info@epicrides.com
Packet Pickup:
Saturday, 8a – 5p at the Epic Rides Bike Decorating Party @Epic Rides tents in Bike & Gear Expo
Sunday, 7a – 8:30a @Epic Rides tents in Bike & Gear Expo
Start Times
Triple Shot – 9:00a, Sunday, April 30
Single Shot – 9:10a, Sunday, April 30


All events conclude at 10:30a.
Rules
All participants (including chaperones) are required to register, sign a waiver, and wear an approved helmet during the Shimano Kids' Fun Ride.
Hand and eye protection are recommended. And remember, the Shimano Kids' Fun Ride takes place rain or shine.
Course Information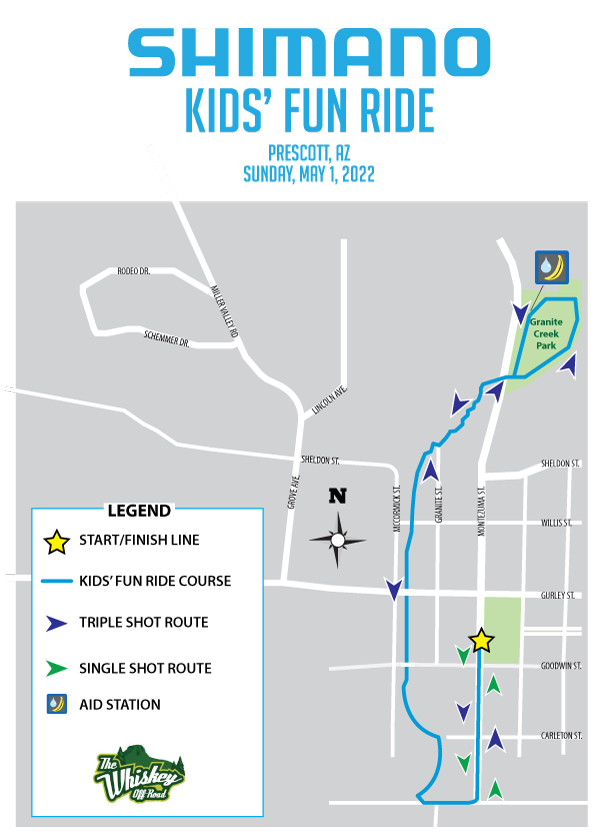 Each course will have volunteers, arrows and pin flags (Triple Shot only) directing riders along the route. The course will be on closed streets and/or open bike paths away from traffic. All courses must be cleared by 10:30a.
Use the map below to see which distance best fits your child's ability.
Check Out Photos from the 2019 Kids' Fun Ride