2019 Oz Trails Off-Road: Women of Oz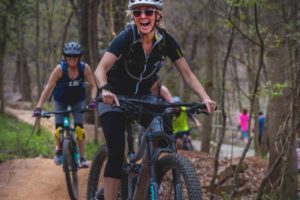 Epic Rides events are dedicated to a person or a group of people who've made an invaluable contribution to the sport of mountain biking. Generally, these folks have been in the sport for many years, usually multiple decades, but this year's event dedication recipient for the 2nd Annual Oz Trails Off-Road, the Women of Oz, have only been established for six months. However, in that time the Women of Oz have grown exponentially, making an enormous positive impact on the local Bentonville community.
Founded in January 2019, the Women of Oz exist to promote women's mountain biking in Northwest Arkansas by creating an inclusive, welcoming environment for all levels to learn or expand mountain biking skills. The group meets the first Saturday of every month, and after six rides, the Women of Oz have grown from 35 female riders to more than 500. How does a group experience such sudden
growth?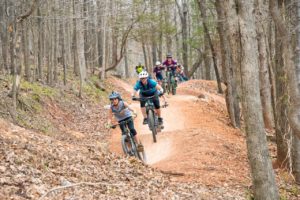 "There were women in Northwest Arkansas who already rode or who had an interest in riding, there just wasn't any established leadership in place to bring it all together," said Allyson de la Houssaye, Women of Oz NWA Chairwoman. "The inclusivity and welcoming nature of the group has also driven the growth. We welcome women of all experience levels and backgrounds."
The extensive network of trails around Northwest Arkansas has also been a factor. Allowing such easy access to trails from the home or workplace encourages more participation, and many women simply ride to the trails straight from their house.
The Women of Oz is a grassroots-driven non-profit and leverages a network of 20 certified guides, holding clinics during their monthly get-togethers, filling to capacity each month, especially in the beginner groups.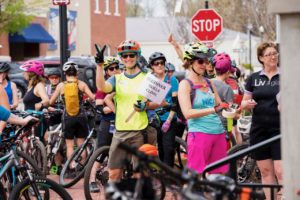 "You have to reach out and give women an opportunity to learn," said de la Houssaye. "There are a lot of women who want to learn to ride mountain bikes, but they don't know how or where to start. Our goal is to get women on bikes by breaking down barriers; whether that's getting them started, getting the right equipment or removing the intimidation factor."
The Women of Oz engage and equip women with information and skills, building leaders in the
community who can go out and bring more women into the program. The group has a Facebook and Instagram page, but de la Houssaye said much of the growth has been word of mouth.
"We are getting women who's kids are already riding in NICA and FAST, and they want to learn so they can ride with their kids. Then there are women who bring friends and other family members interested in learning, and each month the group gets bigger."
De la Houssaye's own story is notable, as she was never a mountain biker, but enjoyed commuting to work by bicycle when she lived in Chicago. Five years ago her husband took a job in Bentonville and she got into road cycling. One day her friend invited de la Houssaye to go mountain biking and she was
unsure.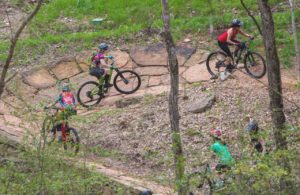 "I gave it a try and immediately fell in love," said de la Houssaye. "The connection with nature, honing the mind and body and the social scene of mountain biking is amazing. It's a totally different kind of engagement than riding a road bike. Now my poor road bike just sits in the garage collecting dust."
Looking ahead, Women of Oz want to continue growing the community of female riders, getting more new riders on the trails through efficient, well-run clinics that can teach and inspire. And given how far they've come already, Women of Oz has definitely created a movement in the Bentonville community with a lasting impact on the quality of mountain bike culture in Northwest Arkansas.
Raise a pint to the Women of Oz, October 12th at 6:45p on the Adventure Subaru Main Stage.
2018 Oz Trails Off-Road: Tim Scott – OG MTB in the Oz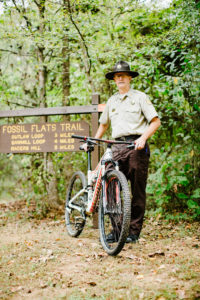 The inaugural Oz Trails Off-Road is dedicated to Tim Scott, a 38-year veteran of Arkansas State Parks and co-founder of the Ozark Mountain Bike Festival, recently
celebrating its 30th anniversary in April. Scott has been instrumental in bringing the sport of mountain biking to Arkansas, starting in the late 1980s when most land managers weren't sure what to think about this new form of recreation. 

There's been a lot of national press in the last five years about the incredible growth of mountain bike trails and culture in Northwest Arkansas, but most people don't realize that, thanks to Scott's support as a land manager, The Natural State was one of the early adopters of mountain biking when the sport was still in its infancy.
Employed by Arkansas State Parks since 1980, today Scott is Assistant Superintendent for Devil's Den State Park, located 50 miles south of Bentonville. Devil's Den was the first of 52 parks in the state park network to build trails specifically for mountain bikes, and Scott served a critical role in welcoming the new sport into public lands management at a time when other parts of the country were banning mountain bikes.

"In 1986 we started seeing mountain bikes popping up in our park, and my boss at the time thought the hilly, rocky topography of Devil's Den would be perfect for mountain biking, so he put me in charge of doing research," said Scott.

Scott recalls reading articles by Mountain Bike Hall of Fame journalist and founder of Mountain Bike Magazine, Hank Barlow, who focused a lot of his writing on environmental advocacy, responsible trail use and the challenges land managers faced with this new form of recreation.

"Through our own research and reading what Hank wrote, we discovered the biggest problem we might face was user conflict between hikers, bikers and equestrians," said Scott. "We figured this was a problem that could be easily overcome, so we started pursuing mountain bike use within Devil's Den."

Another part of Scott's research involved getting himself a Schwinn Sierra mountain bike to ride, as well as attending the 1988 Fat Tire Bike Week in Crested Butte, Colorado with his boss at the time and colleague in promoting mountain biking, Wally Scherrey.

"State Parks didn't have much funding back then, but we got permission to attend the event in Crested Butte," said Scott. "We drove a State Parks van and received just enough money for gas and camping. It was an incredible week that gave us so many ideas for our own mountain bike festival in Arkansas."

The inaugural Ozark Mountain Bike Festival was held in 1989, and through promotion of bike shops across the southeast, 120 racers showed up. The event incorporated many elements of the Crested Butte event, including guided rides, bike limbo, trials, log pull, bike toss, slow race, bunnyhop contest, bike polo, and later, a Big Splash contest, where folks would ride full speed down the hill into a creek. Today the Ozark Mountain Bike Festival still attracts hundreds of riders, focused on bringing beginner mountain bikers into the sport.

The success of the event and the open-mindedness of welcoming a new trail user into public lands resulted in Devil's Den becoming the success case for other Arkansas State Parks to build and promote multi-use mountain bike trails. By the late 1990s, the sport expanded thanks to the creation of advocacy groups like Ozark Off-Road Cyclists and Friends of Arkansas Singletrack. And once the Slaughter Pen trails came into existence shortly thereafter, followed by the enormous financial support of the Walton Family Foundation, mountain biking in Northwest Arkansas took off in ways nobody could have imagined.

But all of it started back in 1988 when a couple of guys from Arkansas State Parks took a road trip out to Crested Butte, returning home with a vision and a plan.

"I'm just fortunate enough to have worked for an agency that wanted to promote mountain biking," said Scott.
When asked if Scott would be riding in the Oz Trails Off-Road, he said he might do the Ozark 25.

"I haven't been riding as much as I'd like to, so I better start practicing and get ready!"
Raise a pint to Tim Scott Saturday, October 6th at 6:45p on the Main Stage.