Enjoy rock steady music and mellow vibes post ride.
With thousands of mountain bikers, plus their friends & family in town for the weekend, Carson City, Nevada is a town packed with mountain bike culture and promise for a better world through healthy outdoor pursuits.
With great cooperation from Carson City Boys & Girls Club, Carson City Combined Municipality and Visit Carson City, the Four Peaks Brewing Company Beer Garden will open near the finish line on Saturday at 10am. Due to Nevada's lax consumption laws, there are no boundaries to the beer service making for the perfect to stroll the expo area, listen to music and cheer for friends and family while enjoying an oat soda while glorious music fills the air into the evening.
– 2020 TBA –
2019 Lineup:
---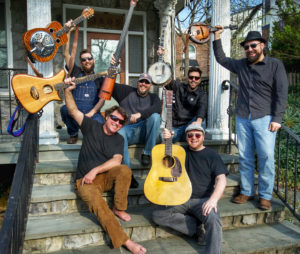 feat. Petty Grass
7:00p – 8:30p | Main Stage
Saturday, June 29
Hailing from Fredericksburg, Virginia, Williams combines elements of folk, rock, bluegrass, reggae, jazz and funk to create a sound all his own. Known for his exploits as a 'one-man band', playing multiple instruments simultaneously, Williams has also collaborated with numerous bands over the years including String Cheese Incident, Umphrey's McGee and the Yonder Mountain String Band and has been a regular performer at music festivals like Bonnaroo.
Paying homage to one of the greatest rock musicians in American history, Williams and the Hillbenders will take the stage on Saturday, June 29 at 7p at the Carson City Off-Road, performing a full show of songs by Tom Petty and the Heartbreakers. This free performance for the public, known as "Petty Grass", will be done by Williams in his signature bluegrass style in the heart of Nevada's State Capital on Carson Street, an event that will surely be one-of-a-kind and a feast for the ears of any Tom Petty fan.
8:30p – 9:30p | Brewery Arts Center
Saturday, June 29
Following the Williams show at 8:30p, the party continues at Carson City's Brewery Arts Center just a couple blocks away, showcasing Jordan T., a Hawaiian musician bringing the relaxing island music sound to the eastern slope of the Sierra Nevada.
"Maui Reggae star Jordan T. is taking Bob Marley along with his unique dash of sun splash hip hop to anada "Positive Vibration" level. A breath of fresh air and if his sold out concerts and high energy performances of Artistic Integrity like his fellow Hawaiian star IZ is an indication of a class act, then he is certainly destined to be the next reggae Super Star IMO" – Phil Chen
"The Brewery Arts Center is excited to be a part of this "epic" weekend," says the Executive Director of the Brewery Arts Center, Gina Hill.  "Everyone at Carson City Off Road has been great to collaborate with and the combination of music and biking is perfect for the active, creative and engaged community that Carson City is becoming. We are looking forward to working with them to make it even better in the future."
---
2:00p – 3:30p | Main Stage
Saturday, June 29
Silver is a 5 piece American Rock'n'Roll group based out of Reno, NV formed in 2016. With each member having varying backgrounds in folk, country, rock, punk, blues, and pop, a wide array of styles and influences come to play and color their diverse sound.
The group is currently touring ahead of the release of their 2nd EP release later in 2019. Silver is regularly touted in the press for their classic songwriting and high energy live performances.
12:30p – 2:00p | McFadden Plaza
Saturday, June 29
Garage soul based out of Reno, Nevada in 2013.
"Soul, baby. Failure Machine has somehow channeled the ghosts of late great soul/R&B artists, dirtied them up (in a good way) electrified them. A grungier Sam Cooke, if ya get me. I've said it before, and I'll say it again. What is going on out there in Reno lately? Another example of great music coming out of one-armed bandit land"
11:00a – 12:30p | Main Stage
Saturday, June 29
Hellbound Glory is an American country and roots rock band, featuring singer-songwriter Leroy Virgil. The band was originally formed in Reno, Nevada, in 2008 by Virgil. Describing the band's style as "Americana, " Virgil credits his influences as "Hank Williams, Nirvana, and Hank Williams Jr."
---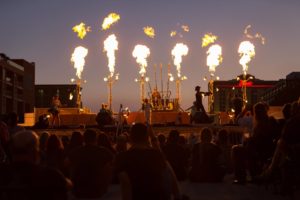 8:30p – 8:55p | McFadden Plaza
Friday, June 28
Controlled Burn is an all-inclusive, all-volunteer fire dance troupe of diverse members who love fire arts and want to share the culture of Burning Man. Controlled Burn uses its non-profit structure as an arts advocacy and mentoring tool to promote and involve new members as they become fire performers, and to promote fire safety throughout the fire arts community.