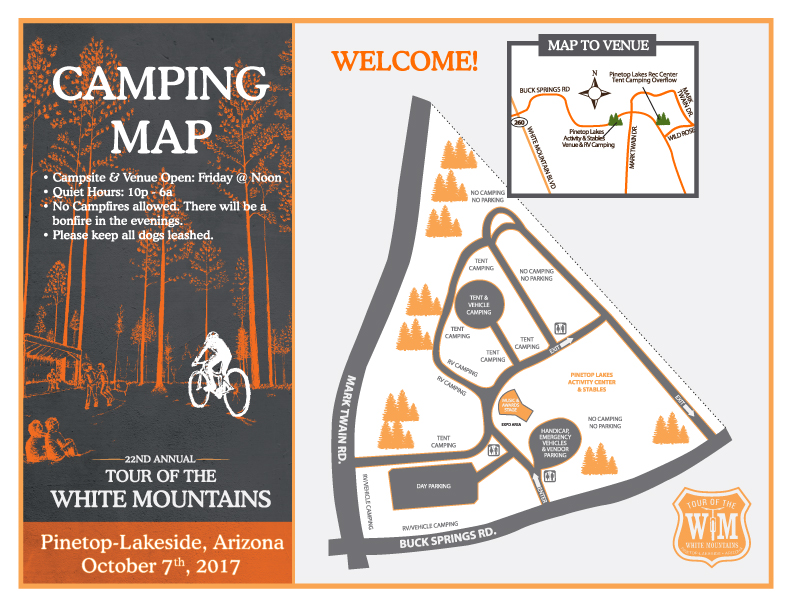 Click here for directions to the campground.
Camping
Camping Reservations are now closed
Upon arrival to the venue, a friendly Epic Rides representative will greet you, recite a few old west poems often shared around a poker table and offer clear, concise directions to the camping area.
Camping costs $5 per adult per night
Dry RV space costs $20 per night and is limited to the first 20 reservations.
Conveniently close to start/finish area, restrooms, and water
Short walk from recreation center
Venue campsite is located at the Pinetop-Lakeside Equestrian Center (5475 Buck Springs Road). Lil' Campers (18 & under) camp free. All spaces are allocated upon arrival.
All registered campers will have access to the Pinetop-Lakeside Recreation Center (6050 Wild Rose Trail) and its activities; basketball court, tennis court, pool, billiards, gameboards, showers, etc.
Check-in after Friday, October 6, 12p
Check-out before Sunday, October 8, 3p
All pets must be leashed
Quiet hours are from 10p – 6a
No campfires allowed (There will be a communal bonfire near the amphitheater)
A Path to Happy Camping
All fires are required to be above ground (same protocol as the 24 Hour event).
Maintain an above ground fire by utilizing a chiminea. For other suggestions, we recommend visiting the "Leave No Trace" website. A convenient option is to rely on the communal campfire.
Bring lots of water. Epic Rides will provide some, however, please consider our stash as a backup. You should pack as if you were going camping in a primitive environment (because you are). Bring a few gallons/person for the weekend and you'll be set.
Venue Details Observed. Restrooms and trash receptacles will be provided. All other creature comforts are up to you, amigos.
Meal Tickets & Food Info
Meal tickets can be redeemed at any one of the food vendors on-site Friday night or Saturday afternoon. The meal includes entree, side, and drink.
Adult Meal Ticket – $15 each
Child Meal Ticket – $6 each
Pinetop-Lakeside – Restaurant Directory
Post Ride Dinner: Downtown Pinetop-Lakeside is roughly 2.5 miles from the venue. With long standing great restaurants, there are reward worthy dishes after good day in the saddle.