Event Schedule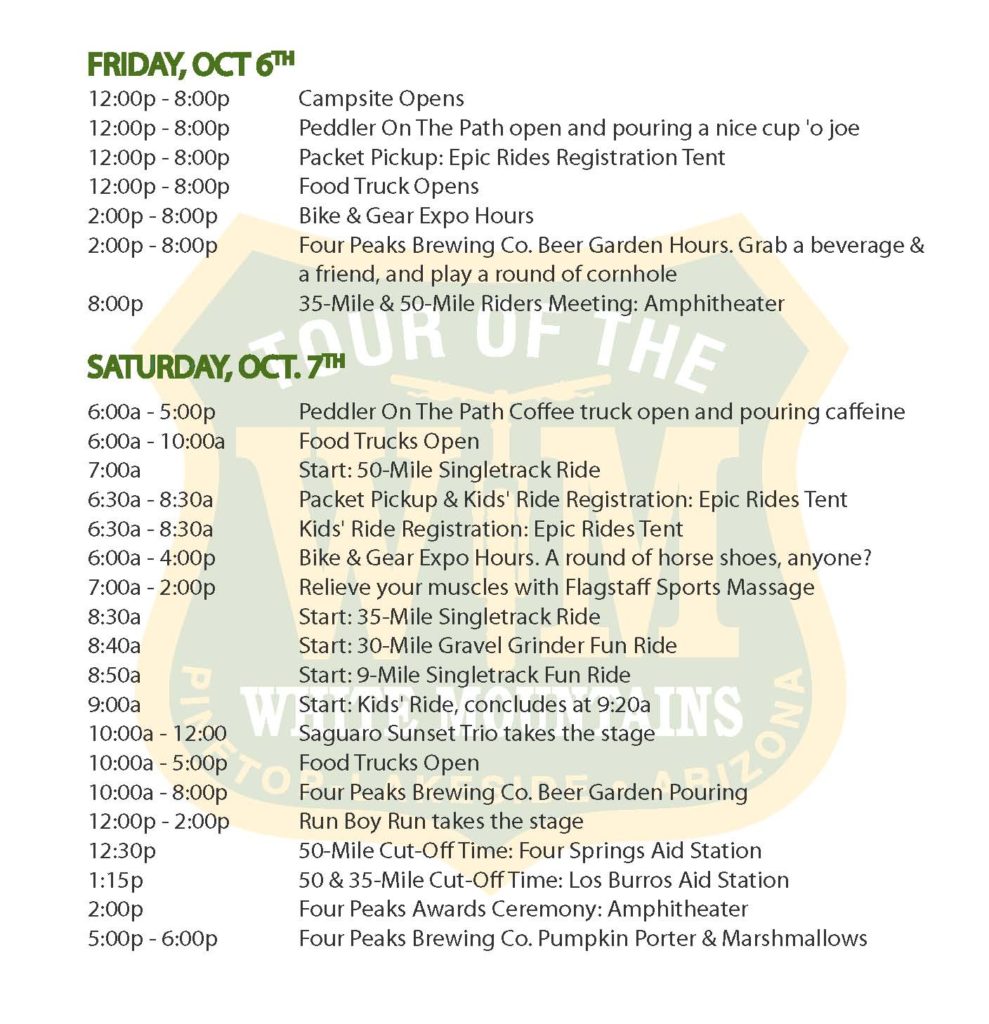 Registration Fee
Registration fees include a $10 donation toward event fundraising efforts, and if applicable, processing fee.
All kids 18 & under receive 50% Off registration. Discount does not apply to $10 charitable contribution or processing fee(s).
Until July

 

31

Until  Aug 31

Until Sept 30

50 & 35-Mile Singletrack Challenge

$120

$130

$140

50 & 35-Mile Junior Singletrack Challenge

$65

$75

$85

30 Mile Forest Road & 9 Mile Singletrack Fun Ride

$75

$85

$95

30 Mile Junior Forest Road & 9 Mile Junior Singletrack Fun Ride

$45

$55

$65
Event is limited to 700 participants and can fill up early.
Changes or Refunds
All changes or modifications cost $10; to change a distance or category mail info@epicrides.com.
Epic Ride's policy is no refunds for the entry fee, except in the event of an injury prior to the event wherein we will transfer your registration to next year's event upon provision of a doctor's note.
Packet Pick Up
Friday, 2p – 8p

Saturday, 6:30a – 8:30a
30-mile gravel grinder & 9-mile singletrack fun ride only
Rider with ID is required at packet pick-up. A friend/family member is allowed to pick-up another rider's packet when a copy of rider's ID is provided.
Pre-Ride Meeting
Friday, 8p – 8:45p
Mandatory for all 35 & 50 mile singletrack riders. All riders plus friends and family welcome!
Participants in all other distances are requested to show up to their start line 20 minutes prior for a pre-event route review and conversation.
Start Times
| | |
| --- | --- |
|  50-mile singletrack challenge |  7:00a |
|  35-mile singletrack challenge |  8:30a |
|  30-mile forest road fun ride |  8:40a |
|  9-mile singletrack fun ride |  8:50a |
|  Kids Fun Ride |  9:00a |
Fundraising
Each entry fee includes a $10 donation. Fundraising activities are for T.R.A.C.K.S. and other event beneficiaries.
T.R.A.C.K.S. is successful in promoting, preserving, and protecting multi-use trails throughout Pinetop-Lakeside and the White Mountains. It strives to support and assist the development, maintenance, and improvement of non-motorized trails, and to provide a resource for education, communication, and social interaction designed to enhance the enjoyment of outdoor experiences on the trails.