Why should adults get to have all the pedal-powered fun at the Oz Trails Off-Road? The Shimano Kids' Fun Ride features two different courses – the Ozark 4 and the Ozark 1 – on Sunday morning after the Pro sendoff, perfect for kids of all ages and skill levels. For many kids, this will be their first shot at the Oz Trails, and most definitely not their last.
Course Information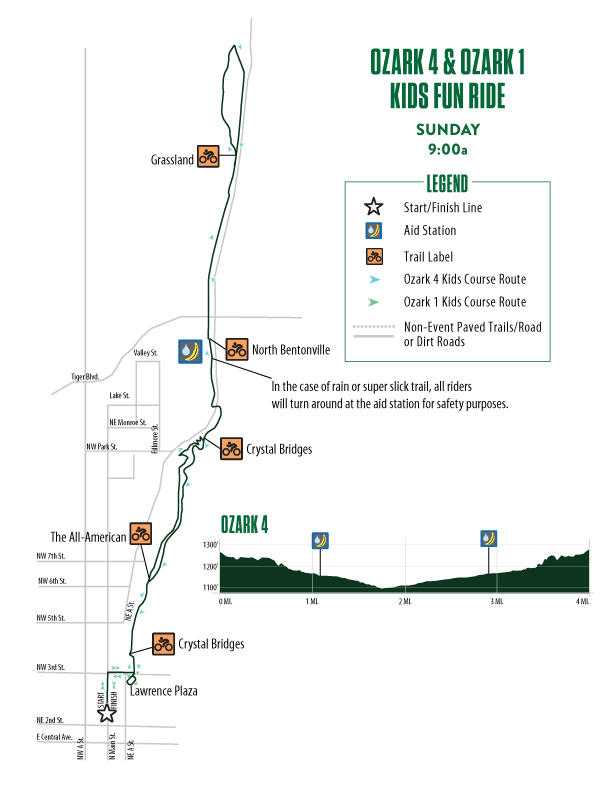 The Ozark 4 & Ozark 1 courses share a portion of the same closed paved route and singletrack as Sunday's pros.
More experienced riders are encouraged to ride the Ozark 4, while younger children on striders or with training wheels are welcome to ride the Ozark 1. Parents are encouraged to ride along with their kids. This course can be very slick during rain.
All riders are required to wear a helmet that complies with U.S. CPSC Safety Standards.
Registration Details
$10 donation to the Arkansas Interscholastic Cycling League. Scholarships are available.
Registration is available during event weekend in the Bike & Gear Expo at the blue Epic Rides tents. Parents are invited to ride with their children for free.
Registration Hours
Saturday 7:30a – 4p
Sunday 8a – 8:45a
Start Times
Ozark 4 & 1 – 9:00a, Sunday (concludes at 10:15a)
Rules
All riders are required to wear helmets, including parents. Gloves and eye protection are recommended.